Fun Facts
Edit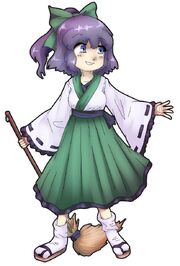 Miko means "female shaman; shrine maiden" in Japanese. Her last name, Kokunai, means "domestic".
She appears on the cover of Nansei of Magic History (with Mokushiroku) and The New Rain of Flowers (with Ritsuka).

Miko, Nozomi, and Mokushiroku are the only characters that appear on more than one cover.

Fans refer Miko as "purple-white".

Her dress colour/main colour changes through the projects. Even though she is known for beeing "purple-white", she was originally in green and than in blue dress.
Ad blocker interference detected!
Wikia is a free-to-use site that makes money from advertising. We have a modified experience for viewers using ad blockers

Wikia is not accessible if you've made further modifications. Remove the custom ad blocker rule(s) and the page will load as expected.