軍曹 隷拏
Rena Gunso


Information
Species
Human
Abilities

Use the M4 and M16

Age

19 years old

Occupation

Guard

Location

Relationships

Rena Gunso (軍曹 隷拏 Gunso Rena) is the younger sister of Reiji Gunso and a guard of the Immortal Youkai Army.
General Information
Personality
Rena is quick-tempered, snarky and aggressive. She's also described as being savage and brutal in combat. Rena is also very competitive towards her brother Reiji and claims that she can do things better than him. However, when it comes to work, she is really efficient, as shown when she monitors Ragoni during Expressive Illumination.
Despite seemingly being devoted to the IYA's cause, she's also just a low level grunt who doesn't know much about what's going on, and will openly mock her superiors, as seen in her treatment of Reiji. Although the IYA is an openly bigoted organization who wants to enslave all humans, the Gunso siblings are humans.
Abilities
Use the M4 and M16
While she doesn't have magic abilities per se, Rena is skilled at using fire weapons, such as the M4 and M16, which is useful for the job as a night guard.
Character Basis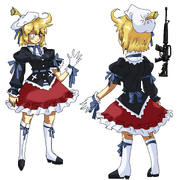 Name
The characters for Rena's first name (隷拏). The first word Re (隷) means "follower" or "criminal", while Na (拏) means "catch" or "arrest". Her last name, Gunso (軍曹) means "sergeant", which is actually her brother's occupation.
Design
Rena's design is based on Heiki Gunji, an unused character that was supposed to be the boss of Toxic Difficulty.
Role
Immortal Youkai Army
Hills of the Gods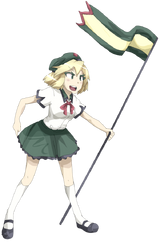 Recently, there have been rumors about the birth of a fake god. Even though this doesn't concern the Immortal Youkai Army in any way, Rena (who was assigned to the Border as a guard) most likely overreacted to all of it and together with an army of fellow soldiers, they go with the intent to defeat that god and fight for youkai rights.
She is eventually guided by Bijonu Ochosan to the eponymous Hills of the Gods, where she meets the so-called fake god, actually a newborn automate golem named Ragoni. The golem demands answers about its identity, but Rena is more interested in fighting the fake god she was searching for. After defeating Ragoni, she calms down and befriends them.
Expressive Illumination
Art has been disappearing around Kuusou no Sekai. The Immortal Youkai Army does not care about such things, but the Anti IYA Resistance is involved, so the superiors task Ragoni (who was conscripted after the events of Hills of the Gods) with the mission to attack any Anti-IYA in the way. Reiji was originally assigned to assist Ragoni, but this was changed to Rena at the last minute.